Re-entry Tournaments
Fabulous Poker has now created away to increase prize pools, action, and give you multiple chances to win every tournament!
Introducing Re-Entry Tournaments, a new type of tournament that lets you re-register for the same tournament after you've busted out for another chance at taking down the event.
The revolutionary tournament feature allows dedicated tournament players to put in more volume, and it offers the recipient of a bad beat to brush it off and get back to playing strong.
The Re-Entry Tournament allows players who get eliminated from the tournament to buy back as a new player while late registration is still open.
Players can re-enter as many times as they like into a tournament, so long as the tournament is still in Late Registration. Players will be able to re-enter for the same cost as the initial buy-in (with the exception of re-entry freerolls).
It's important to mention that with this feature available in all Freeze out Tournaments and the tournament schedule allowing 3 to 4 Freeze Out tournaments per hour, the tournament volume will dramatically increase, thanks to the larger number of entrants in each tourney, making prize pools significantly bigger.

How it works
When you get knocked out of a tourney, a window will display giving you your placement in the tournament and the option to re-enter the tournament. At this point you have two options: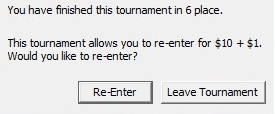 Leave the tourney: this option will close the window and you will be able to register for another tournament or ring game.
Re-Enter: As soon as you click this option, the Buy-in amount will be debited from your account, and you'll be seated at a brand new table with a brand new starting chip stack giving a fresh start!
Please keep in mind that you can re-enter a tournament as many times as you like, as long as the tournament is still within the late registration period, and as long as you've busted out of the tournament.

Re-Entry Tournament types
Currently four types of tournaments are available with this new feature at Fabulous Poker
Re-entry Freerolls: The Re-entry Freerolls use a special freebuy format. The Buy-in for these tournaments is free;however you will be able to re-entry, as many times as you want, during Late Registration for a small real money amount. The prize pool will increase after the original Prize amount is covered.
Re-Entry Satellites: in these tournaments you will be able to buy back into the tournament for the same Buy-in amount, boosting the prize pool each time and giving you more chances to advance to the next round.
Re-Entry Guarantees: this feature is available in Guaranteed Tournaments that only pay the final table. You can re-entry, as many times as you want, during Late Registration, and once there are more entrants than necessary to meet the guaranteed prize pool amount, and then the prize pool will be even bigger than what the guarantee is set at.
Re-Entry Freezeout: this feature is available in all of our Freezeout Tournaments. You can re-entry, as many times as you want, during Late Registration, the end result will be bigger fields and bigger prize pools. Players can keep playing like in a traditional freezeout due to the fact that if you take a player out of the tourney, he will be gone from your table and it will be unlikely to meet him again until much deeper in the tournament.
How to Play Re-Entry Tournaments
Locate the tourney you want to take down, register for it.
Play like a champion, just like you would in any tournament.
If you bust out during the registration period, you'll be asked if you'd like to re-enter the tourney. If you choose yes, the Buy-in amount will be debited from your account and you'll be seated at a new table in the exact same tournament.
*Players cannot use Tournament Dollars to re-enter a tournament.
More Tournament Types: